They say good things come to those who wait. Sometimes you have to wait a bit longer to get what you want. It takes a lot of patience, but in the end, if you work hard, you will ultimately get what you desire. Sometimes it takes months, or a few years. But for Mark Henry, it took 15 years for the WWE to finally realize how to properly use him. But for Henry now, that 15 year wait was worth it, as he is now the World Heavyweight Champion for the first time in his professional career.
Henry debuted in the WWE in 1996 after competing in the 96 Summer Olympics. His first match was against Jerry Lawler. Upon his debut, Henry was billed as "The World's Strongest Man." In his first two years in the WWE, Henry was basically squashing opponents because he wasn't ready to work regular matches in the ring. In 98, Henry turned heel and joined the Nation of Domination. After spending the early part of 1998 in the group, Henry eventually broke away. He was awarded the European Title by Jeff Jarrett after Henry helped him win that Title as well as the Intercontinental Title.
After his heel turn, Henry turned face and was given the infamous "Sexual Chocolate" gimmick. Looking back on it, it was one of the more embarrassing gimmicks the WWE ever did. Henry engaged in on air relationships with Chyna and Mae Young. He also was seduced by a transvestite. During his relationship with Young, the couple announced that Young was pregnant and expecting a child. In one of the most memorable moments in WWE history, Young gave birth to a full grown hand on TV. Sure, this gimmick fit the Attitude Era booking, but it was a demeaning gimmick that made Henry look like a fool. He left wrestling briefly after this to get more training and focus on his weight lifting.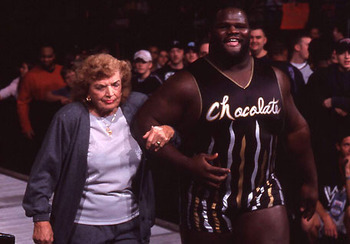 Despite the smile, I'm sure Mark Henry didn't think this was one of his best moments
Henry returned in 2002 but was rarely used. In 2003, he had a short program with Goldberg as well as Shawn Michaels and Booker T. He tore his quadriceps in early 2004 and did not return to WWE TV until late 2005. Henry looked to finally be receiving a main event push in early 2006, as a program with World Champion Batista seemed on the horizon. Batista, however, was injured during a match with Henry. Henry fought Kurt Angle for the World Title at the Royal Rumble, losing. Henry went on to feud with The Undertaker leading to a casket match at Wrestlemania, which Henry also lost. Henry then went on his "Path of Destruction," which was very similar to what he is doing today. Henry caused injuries to the likes of Chris Benoit and Rey Mysterio. During this time, Batista returned and a big match between the two was imminent, but Henry suffered tore his patella tendon completely off the bone, putting him out of action for almost a year.
Henry returned in 2008 and eventually started his feud back up with The Undertaker. He then moved over to the ECW brand, where he won the ECW Title, his first Title win since being awarded the European Title in 1999. After losing the Title, Henry moved over to the RAW brand and turned face, forming tag teams with various partners for almost a whole year and a half. In my opinion, Henry never worked well as a face. sure, everyone loves a big lovable monster. But there's no money in that. Nobody wants to see the big giant good guy win the World Title. There's always more money in big men being pushed as monster heels. Henry as a face could have worked in only two scenarios. The first being if Henry was actually a very good wrestler for his size, which he wasn't. The second would have been if the WWE had taken Henry's story of being in the company for 10+ years and never winning the World Title and used it as a face. Crowds can get behind stories like that. The reason it didn't work for Rey Mysterio was because they were exploiting Eddie Guerrero's death with it as well. But while doing that as a face might have worked, what was in store for Henry in 2011 was much better.
In April 2011 Henry was drafted to the Smackdown brand. On his last night on RAW, Henry turned heel on his partners John Cena and Christian in a 6 man tag match. His first program at Smackdown was with the Big Show. Henry constantly attacked Show before and after matches. He performed the World's Strongest Slam on Show, putting him through a table. He also put Show through the side of a steel cage, knocking the cage side off completely. Henry beat Big Show at Money in the Bank, then storyline "snapped" his ankle after Henry jumped on a chair over Show's ankle. Henry also put Kane out of action. At SummerSlam, Henry beat Sheamus via countout after putting Sheamus through the ringside barrier. Henry then won a Battle Royal to become #1 Contender for the World Title.
Once Henry won the Battle Royal, it was make or break time for him. It was time to see just how serious the WWE was about this push. If it wasn't for the C.M. Punk, the story of Henry being pushed like he was would have been the talk of the WWE this past summer for many reasons. The first reason is because Henry had been around for 15 years, and the WWE had never gotten this serious about a Mark Henry push. They might have in 2006, but injuries derailed that opportunity. It was also a nice surprise to not see Henry get injured. Henry has had a string of bad luck with injuries throughout his career so to see him stay healthy for this extended period of time was great.
But perhaps the best thing about seeing Henry get the push that he is getting is the simple fact that the WWE rarely gets behind pushing a heel as a true monster anymore. When was the last time a heel has looked as dominant as Henry has? Henry seems to be right out of the late 80s/early 90s brand of heel. A monster who the faces know is a serious threat to them. There has not been one time in the last 6 months when Henry has looked weak. Even when Henry has lost or not gotten the best of his opponent, there was a good reason for it. I also love the fact that the announcers hype up Henry every time he is out there. They don't say he is lucky or make excuses for his opponents. They hype Henry up as a true monster and a serious threat to anyone he steps in the ring with.
So when Night of Champions came around, it was the first test to see how serious the WWE was about Mark Henry's push. With 3 PPVs in just over a month's time, even I thought having Henry win the World Title this early may have been a bit premature. I thought some kind of DQ or countout was coming. While I advocated for a long Mark Henry title reign, even I thought the WWE should wait to pull the trigger. But to my pleasant surprise, Henry continued his dominant push and won the World Heavyweight Title. The reason it was so surprising is because Henry beat Randy Orton clean. Orton rarely if ever loses cleanly. But that right there showed just how serious the WWE is about Mark Henry's push. The WWE didn't feel the need to protect Orton. They wanted to push Henry as such a serious threat that the WWE wasn't concerned about protecting Orton. The crowd, surprisingly, was also very receptive to Henry's win. Maybe they were happy to see Henry finally win the World Title? Maybe they were all just fans of Henry's push. But the WWE did the smart thing about having him attack Jim Ross and Jerry Lawler Monday. He has to stay a heel, that is what Henry is best at.
Now of course, everything I just said could mean nothing in a week's time. Henry could lose the World Title to Orton at Hell in A Cell and the push could be over. That would be stupid on multiple levels. First, it would kill Henry's momentum. Second it would be ANOTHER World Title change, which is just another one too many. But I honestly don't think that is happening any time soon. I really think this Henry push is for real. And it is well deserved. Sure, Henry hasn't put on 5 star wrestling classics, but all of his matches in the last few months have been watchable. They've been on the shorter side, and have shown off Henry's brute force type of offense that he is good at.
Mark Henry's impact moves are what he is best at, as evident at this past year's SummerSlam
So how do I want to end this piece? I guess by saying thanks. Thank you to the WWE for finally getting serious about pushing Mark Henry and doing it the right way. Thank You Vince McMahon for not changing your mind half way through this push. And thank you to Mark Henry. You've had some crap thrown at you throughout your career, but you surprisingly stuck with it and didn't quit. You waited your turn to get to the top and now you are there. You've been a refreshing change of pace in the WWE and I hope your monster push continues. From everything I've heard your a great guy backstage and one of the nicest people around. But your bad ass monster heel push has been great. Keep up the awesome work.
Until next time,
Justin C
Follow me on Twitter @JCWonka