In a wrestling business that is always changing, a wrestler needs to standout in order to have a lasting impact. They need to have that special ability to connect with the audience. Somehow, the wrestler needs to find a way to get the audience to care about them. It could be their in ring work, it could be their great promo skills, it could be their natural charisma or genuine passion they show for the business. Master any one of those traits, and you will stand out in the fans eyes.
It takes a special person to have every one of those traits. It's a short list. In my opinion, you can count the number of people who have all four of those traits on both hands: Shawn Michaels, Randy Savage, Triple H just to name a few. Everything is debatable. Guys like Hulk Hogan and Ultimate Warrior are recognizable names, but they never put on the best matches, and you could argue Warrior lacked a passion for the wrestling business.
Every great wrestler leaves their mark on the business. They're the ones who will always be remembered. They stand the test of time. When they are gone from the business, they are still talked about or remembered by the current crop of wrestling fans. They stood the test of time. They somehow connected with the fans, and those fans made sure he wasn't forgotten.
When talking about wrestlers who stand the test of time and leave a mark in the wrestling business, Chris Jericho has to be on that list. Jericho possess all of those traits I mentioned earlier. He puts on great matches, he's great on the mic, he has a natural charisma, and a passion for the wrestling business. Chris Jericho is a man who understands the wrestling business. He gets it. He knows what the fans want. Jericho can adjust his performance to make it fit in with the current product. Jericho's history of wrestling around the world has given him that great ability to adapt.
Young Chris Jericho in his early stages of the wrestling business
Jericho's wrestling career is a storied one. He's been to almost every corner of the globe. He's wrestling in Europe, Japan, Mexico, and of course North America. Every stop along the way helped contribute to Jericho's career. If he hadn't gone to just one of those places, then we might not have the Chris Jericho that we have today.
Jericho was trained by Stu Hart in the legendary Hart Dungeon. Back then, you knew that anybody coming out of the Hart Dungeon took the wrestling business seriously and was dedicated to the business. His travels took him to Mexico then Japan, before coming back to North America where he competed in Jim Cornette's Smokey Mountain wrestling. He formed a tag team with Lance Storm known as the Thrillseekers. Throughout all of these stops, Jericho was fine tuning his in ring work as well as his ability to connect and read the crowd. It helped him become the wrestler he is today.
In 1996, Jericho caught his first big break when he was discovered by Paul Heyman. At the time, Heyman was running ECW. ECW was still growing at the time. It was a place for talent who either wasn't ready or couldn't hack it in WWE or WCW. Many people consider Heyman to be a wrestling genius, someone who can bring out the best of any wrestler. He started to do that with Jericho. Although Jericho wasn't with ECW for long, he had some good matches with the likes of Taz and Cactus Jack. In his short time in ECW, Jericho immediately one the affection of the fans. The fans in ECW loved blood and violence, but he won them over with his technical skills in the ring. While ECW fans loved violence, they also enjoyed and respected great wrestling. Jericho earned their respect in his short time there with his budding in ring skills.
After ECW, Jericho found his way to WCW. Eric Bischoff has an eye for talent, and he saw something in Chris Jericho. Jericho became a part of WCW's Cruiserweight Division. While guys like Hulk Hogan, Kevin Nash, and Scott Hall were drawing the big $$$, the cruiserweights were putting on some great matches with moves most of the North American viewing audience have never seen before. Often times they were the opening matches on the show. It was a great way to keep viewers before the likes of the nWo came out.
Jericho started off as a bland, run-of-the-mill baby face. As Jericho said on his DVD, there was really nothing he could do as a babyface to get over. But in early 1998, Jericho turned heel and embarked on a run that would help make a name for himself in the wrestling business. Jericho's obnoxious personality helped get him over with the fans, even though he was suppose to be the heel. Jericho would use crazy pop culture one-liners that would leave the audience laughing.
Jericho's best known feud in WCW was with Dean Malenko. Malenko was a very no non-sense wrestler. He let his work in the ring do the talking. Jericho claimed to be a better wrestler than Malenko, but never actually wanted to wrestle him. Malenko was known as the "Man of a 1000 Holds." Jericho, claiming to be the better wrestler, said he knew 1004 holds. This lead to Jericho cutting one of the funniest, and best, promos I personally have ever seen. Jericho had a long list of computer paper with all of his holds listed on it. Anyone who is reading this should go out of their way and find it. It's great. Evey other hold is "ARMBAR." Jericho got even better as the feud continued. Malenko won a Cruiserweight Battle Royal dressed as a masked wrestler known as Ciclope. Malenko then beat Jericho for the Cruiserweight Title. Jericho then began claiming he was a conspiracy victim. He filmed a skit in Washington D.C., walking the streets with a "Conspiracy Victim" sign and even went into the Library of Congress trying to find the rules of wrestling. It was these crazy skits that won Jericho a whole bunch of fans. They were so outlandish that they were funny and memorable. Just like a wrestler needs to, he made his mark with the audience.
After winning the WCW Television Title, Jericho began to call out Bill Goldberg. Goldberg was at the time the hottest thing WCW had. His impressive physique and impact moves won the crowd over. Jericho wrestled an impostor Goldberg at Fall Brawl and beat him. Jericho would continue to call out Goldberg, but Goldberg usually wasn't in the building yet. This was all suppose to build up to a match between Goldberg and Jericho on PPV, but it never happened. According to Jericho, Eric Bischoff and Goldberg didn't think it would draw any money. Jericho thought people would pay to see Goldberg squash him on PPV. The match never happened, which was considered a major disappointment. But it was status quo for WCW at the time. They wouldn't give anybody new a chance to get over. Jericho was held down in WCW, even though he was getting over with the crowd. He was getting frustrated, and rightfully so. The crowd wanted more Jericho, but the Powers that Be wouldn't allow it. Jericho knew it was time to move on, and the WWE gave him the perfect opportunity to do so.
Chris Jericho's debut in 1999 is still one of the most memorable moments in wrestling history
Jericho made his WWE debut in August 1999. His debut was teased for numerous weeks with a "Countdown to the Millennium" clock. He made his debut on RAW, interrupting a Rock promo. That means a lot. Vince McMahon, someone who usually likes his homegrown talent more than outsiders, let Jericho interrupt a promo of the hottest superstar in the business at that point. Unfortunately, that never really let to much. There was never a feud between the two. Watching Jericho's debut when it happened at the age of 11, I was immediately hooked on him. I only really remembered him on WCW briefly, I was always more of a WWF guy. I was hoping Jericho would be the next big breakout star in the WWE. I loved his exchange with the Rock and thought he came off really well.
In his first 2 years with the WWE, Jericho mostly fought over the Intercontinental Title against the likes of Kurt Angle, Eddie Guerrero, Chris Benoit, and Chyna. Yes Chyna. Jericho's first taste of the main event cane against Triple H on an episode of RAW in April 2000. Jericho challenged HHH to a match for the WWF Title and won thanks to a fast count from referee Earl Hebner. HHH, who was storyline in charge at the time along with Stephanie & Shane McMahon, forced Hebner to reverse the decision. Many people to this day still argue that it was the wrong decision. The problem was the timing. The Rock was trying to get his Title back from HHH, who he lost it to at Wrestlemania. They were in the middle of a program, and it would have felt awkward having Jericho win the Title in between. The fans were excited to see someone new like Jericho at the top, but it would be wrong to have Jericho's first win only last a week or two. What this small event did show was that the fans were more than willing to get behind Jericho as a main event performer. His in ring work was only getting better, and his promo skills were one of the best, if not the best in the business. During this time, Jericho also had some great exchanges with Stephanie McMahon. They always got a laugh from me. Again, Vince trusting someone to make fun of his daughter shows he had faith in him. Jericho had the ability to be funny, but also be serious when needed. He knew the proper balance and delivered it effectively.
Jericho's crowning moment of his career came in December 2001. After the horribly botched Invasion angle, which could be an entire blog of its own, Jericho won the Undisputed Championship. I wasn't expecting it, and I'm sure not a lot of others were as well. Jericho was probably #4 on the list of himself Rock, Austin, and Angle as far who had the best chance of winning the title. But again, it showed Vince McMahon's faith in Jericho to carry the company and be the top dog. Jericho's reign only lasted til Wrestlemania 18, where he lost the Title to HHH. But again, it was a highlight of Jericho's career to headline Wrestlemania. Sure, Rock/Hogan was the main draw, but Jericho/HHH went on last.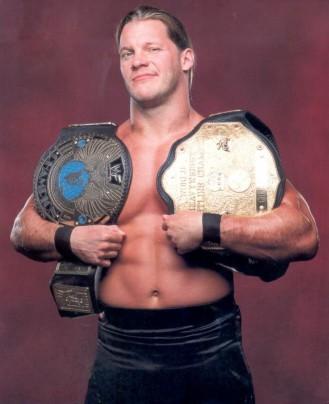 Winning the Undisputed Championship is something Chris Jericho never thought he could accomplish, but his talent allowed him to do it
Early 2003 saw Jericho start one of his best feuds in his career with Shawn Michaels. The two had a great match at Wrestlemania 19. Great back and forth action. Michaels showed that he still had it, and Jericho showed he was one of the best around at the time. Jericho then went back to a feud with Goldberg before teaming with Christian. The two broke up over what guys usually break up over, women, before Christian beat Jericho at Wrestlemania 20. Jericho feuded with Christian throughout 2004, then re-focused on the WWE Title in 2005. He turned back heel and began a program with John Cena. Jericho was never able to take the Title from Cena, and lost a "You're Fired" match to him on RAW in August 2005. Jericho's contract was expiring, and he wanted to take some time off from the business, which I respected Jericho for. Wrestlers are on the road more than they are at home every year. Jericho needed to re-charge and take a step back. He basically needed to re-tool his character so that when he came back, he would make a different impact than he did before.
"Chris Jericho is somebody I enjoy have around. He's had a wonderful career for a lot of reasons, because he's good at his job. And when he was gone, there was something missing." John Cena
"It was a great way to put a stamp on that stage of my career. I just needed to get away, I was burned out." Chris Jericho on leaving in 2005
Jericho returned to the WWE in late 2007. His return, which was the worst kept secret in wrestling, was very similar to his WWE debut. He interrupted a Randy Orton promo and immediately challenged him for his WWE Championship. Jericho never won the Title. He went on to feud with JBL after he cost Jericho his WWE Championship match against Orton.
"He has the ability to make you hate him, and as Y2J make you love him. But he's very smart in that I think he saw that when he first came back after a two year absence he was kind of doing the same thing before he left, and he realized that the climate had changed in that two years. So he had to completely about face things." Edge
Even though the fans were happy to see Jericho back, he wasn't getting the same reaction he did in his first run in the WWE. He knew he had to change his persona. The fans wanted something different. They had seen this Chris Jericho before, and they wanted something new. And Jericho gave that to them. He viciously attacked Shawn Michaels, bashing his head into the JeriTron 5000 and storyline injured his eye. The two fought at the Great American Bash, which saw Jericho reinjure HBK's eye. Michaels was going to retire at SummerSlam, but Jericho interrupted his speech. Jericho went to go punch HBK, but hit his wife Rebecca instead. The two fought in an Unsanctioned Match at Unforgiven, which Michaels won. Jericho got the last laugh, however, by winning the World Heavyweight Title in a Scramble Match. Jericho beat Michaels in a Ladder Match at the next PPV, capping off an incredible feud. I would argue that it was the best of Jericho's career, better than his first time around with Michaels. The intensity was amped up. Jericho took his new suit-wearing, no non-sense, better than you persona and played it up to a tee. I loved this new Chris Jericho. He was able to change his character and adapt to the desires of the audience.
Shawn Michaels may have won the battle, but Jericho got the last laugh at Unforgiven
After losing the title to Cena, Jericho began insulting various legends of the wrestling business. He defeated Ricky Steamboat, Roddy Piper, and Jimmy Snuka in a match at Wrestlemania 25. Jericho moved to Smackdown where he started a feud with Rey Mysterio over the Intercontinental Title. I loved this for many reasons. First off, the two put on some great matches, especially their match at the Great American Bash. Second, two main event level wrestlers were fighting over the IC Title. That made the belt seem more important than it had in a very long time. That was great to see. Jericho then formed a tag team with Edge, but after Edge's injury he chose Big Show as his new partner. They won the Tag Team Titles. The two made the tag team titles relevant again, and it was probably the last time they were relevant in a long time. After losing the tag titles to DX, Jericho was able to win back the World Title in the Elimination Chamber. He defended it successfully against Edge at Wrestlemania, only to lose it at the next Smackdown to Jack Swagger. Jericho was drafted back to RAW. After unsuccessful attempts to win the WWE Title, Jericho was punted in the head by Randy Orton and written off of television. Jericho again wanted to take time off from the wrestling business. He loved everything about it, but needed to re-charge again and attempt other projects outside of wrestling.
Phew, that was one long history on Chris Jericho. But the man has such a storied history that it's tough to skip over certain parts of his career or condense them down to something short. There's just so much to like about his career. Once he got to the WWE, there was hardly ever a down point. Everything he did was interesting. He was funny when he needed to be, he was serious when he needed to be. Both of his runs in the WWE each had their own unique aspects, and surprisingly enough, he never suffered a serious injury in either of them. That is a rarity in the pro wrestling business.
So, looking back, what were Jericho's Top 5 opponents in his wrestling career? Here's my Top 5:
5. Rey Mysterio:
You could go back to some of their matches in WCW, but I mostly liked their feud in the summer of 2009. It was great, entertaining wrestling all around. Two pros doing what they do best. As I said earlier, it was great to see two established main event wrestlers feuding over the Intercontinental Title. I would recommed anybody to go out and see their two matches at Extreme Rules and the Great American Bash. It was some of Mysterio's best work in his WWE career.
4. The Rock:
Towards the end of the Invasion angle, the two began forming an animosity between each other. Jericho was jealous of all The Rock's success, and he wanted the WWE spotlight for himself. The two were arguably the best talkers at the time in the business, and watching them exchange verbal jabs at each other every week was highly entertaining. Jericho got the best of The Rock in both of their matches, at Vengeance 2001 and Royal Rumble 2002. That means something, saying you beat the Rock on 2 straight PPVs.
3. Stephanie McMahon:
Now I may get some flack for this, but there is no denying the great chemistry these two had. As Jericho said in his DVD, she was a great foil to him. There was a point when Stephanie McMahon was arguably the most hated person in the WWE, and Jericho used that to his advantage. His constant mockery of her got laughs out of everybody. It helped establish Jericho on the mic as one of the best around. By interacting with the most hated person in the Company, it showed people that Jericho had what it took to stay at the top.
2. Dean Malenko:
Jericho's program with Malenko helped but him on the map. It showed that he had the potential to be the next breakout star in the business. It lead to two great skits, the Armbar promo and Conspiracy Theory skit. It also lead to some good matches. Jericho showed his ability to get over and respond to what the audience wanted in this program. It's ashame that WCW failed to capitalize on Jericho's momentum after this program.
1. Shawn Michaels:
His first program with HBK was great, his second one was even better. Jericho was still the semi-goofy rockstar character in their first program. It was more of a student/teacher type of program. Jericho was facing the man he idolized his entire career. Their second program brought the big time feel. It had great emotion, drama, intensity, everything you would want in a wrestling feud. The story told at Unforgiven was great. Michaels finally got his revenge on Jericho, but Jericho STILL managed to one up him in the end, walking out as World Heavyweight Champion, then beating Michaels in a Ladder Match at No Mercy. These two were perfect for each other.
"When you get in the ring with Chris, he brings out the best in you. He makes you better." Chavo Guerrero
There's so much that can be said about Chris Jericho. From a die-hard wrestling fan like myself, I like and respect everything he did. He was that damn good at it. There is a reason people are desperate for him to return to the WWE. Plug him in to TV today and he will be just as entertaining as he was when he left. The guy doesn't miss a beat. As I said about Randy Savage, Jericho is one of those guys that I believe can be plugged into any generation of wrestling and he would find a way to get over. Jericho has a great knowledge of what the wrestling audience wants and can adjust his character accordingly. His vast experience of wrestling around the globe has helped him do that.
Jericho's storied career is an example of the passion he has for the business. Not many guys would travel the world like he did just to perfect his craft. But Jericho used every stop to his advantage. He grew as a performer, and a person, at every one of them. His travels around the world made him almost a skilled veteran by the time he came back to North America. Wrestling outside of the United States is very different. They like different aspects of the performance, and it isn't as big of a joke as it is over here. Those fans helped Jericho become what he is today.
Chris Jericho has had a very successful life, even outside of wrestling. His rock band, Fozzy, is very popular in Europe and Canada. Jericho has hosted and been a part of a variety of pop culture shows on VH1. He's also written two of the best wrestling books ever published: A Lion's Tale and Undisputed. Every wrestling fan should go out and read them. He recently appeared on Dancing with the Stars. Although he was eliminated early, he had fun every single week he was there. Jericho's out going personality makes his cross over to other areas of entertainment very easy. He is a genuiely funny guy who loves entertaining the masses. While he may not be known to the non-wrestling audience immediately, he always finds a way to win them over with his personality, charisma, and rugged good looks.
Jericho's place in wrestling history is debatable. When you talk about mainstream wrestlers, ones known to even non-wrestling fans, Jericho's name probably won't come up. By I think that is a stupid way to judge wrestlers. That's only a partial way to judge wrestlers. While that should be taken into account, other aspects should as well. If you take into account his in ring work, promo skills, dedication to the business, and growth as a performer, Jericho is high up on that list. Depending on who you ask, Jericho could be Top 10. In my opinion, he's guaranteed Top 25, and would fall anywhere between 8-25. In my biased opinion, he's one of my Top 7 performers ever. I don't like keeping a ranking. Shawn Michaels is my favorite, hands down. After that, I would put The Rock, Steve Austin, Sting, Randy Savage, Ric Flair, and Chris Jericho in one big group. Each one of them have their own likeable assets. In ring wise, Jericho is very similar to Savage. I would have loved to see a Savage/Jericho feud, especially serious Jericho. Those seven guys compose my Top 7. They're all great performers for different reasons.
Chris Jericho idolized Shawn Michaels early in his career. As evidence by his young photo, he resembled a Rockers version of Shawn Michaels. Both Jericho and Michaels were masters of their craft. And similarly, both performers had two very distinct runs in the WWE. In Michaels first run with the WWE, he was an obnoxious loose cannon, but he was also a great wrestler. During his second run, he was an esatblished veteran who turned his life around when given a second chance. In Jericho's first run, he was a goofball joker, always cracking jokes and ripping on his opponents. But again, he was also a great wrestler. In his second run, he was a no non-sense straight shooter. He spoke the truth, whether the fans liked it or not. It's amazing how the career paths of Jericho and Michaels are so similar. Both great workers, both great promos, both had two distinct and different runs in their WWE career. You could also argue that both of their second runs were better than their first. Jericho's suit-wearing personna was one of the best characters in the WWE during 2008 and 2009. Fans cheered him despite being the bad guy. They respected his work ethic, and Jericho deserved it. Some people say that if the bad guy gets cheered, he's not doing his job right. Well Jericho was doing his job right. He was doing everything a heel is suppose to do, but he was so good at it that the fans loved him for it. At the time, he really was "the best in the world at what he did."
Chris Jericho is a very humble man. He will be the first to tell you that there are plenty of other wrestlers better than him. But that list is very short. When it comes to legends in the business, Chris Jericho's name has to be in that discussion. His career is a story of hard work, determination, and dedication to the wrestling business. Much like Edge, Randy Savage, and Christian, all guys I wrote about, fans can idnetify with Jericho because he was built very similarly to a normal guy, not one of the larger than life guys in the wrestling business. He perfected his craft over many years, and today is recognized as one of the better in ring workers of all time. All of his matches are entertaining. Jericho knows how to read a crowd. He gives them what they want. He respects the fans opinion, and the fans respect him, good or bad.
I hope Chris Jericho comes back for one more run. I love watching him perform and do his thing on TV. The WWE needs a solid go to guy right now, and Jericho can be that guy. He can be the veteran to help establish new talent and get them over. But if Jericho doesn't come back, he's still had one hell of a career. He's a great performer who always entertains night in and night out. Many times, you have to agree with him, he was "the best in the world at what he did."
As a wrestling fan, I want to say thank you for everything you have done in the wrestling business Chris. No matter what you think, you are one of the very best to ever step foot inside the squared circle. You're one of the few guys I always made sure to watch when you were on TV. I respect you as a performer and everything you've done in and out of the ring. Thank You.
Until next time,
Justin C